WHO WILL LEAD TEAM CANADA AT THE WORLDS?
WHO WILL LEAD TEAM CANADA AT THE WOMEN'S WORLD SOFTBALL CHAMPIONSHIP
Vancouver, BC – At the end of January, Softball Canada will be announcing the women selected to represent Team Canada at the WBSC Women's World Softball Championship, the largest women's international fastpitch event taking place in Surrey, BC in July 2016.
Local athlete - Sara Groenewegen – is sure to be one of the top candidates and is hopeful to pitch for Team Canada in her hometown and continue her family's strong athletic legacy. Groenewegen is following in her uncle's footsteps as an inspirational leader for Canadian athletes and sport fans; Leo Groenewegen played for the BC Lions and went onto play in the CFL for 17 years.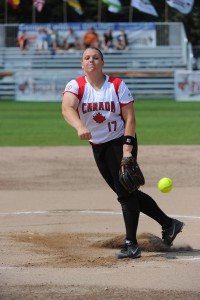 Sara began her career with the South Surrey White Rock Minor Softball Association when she was seven years old. She competed in several Canadian Championships with the White Rock Renegades and even pitched a perfect game at the Provincial Championships when she was still in high school.
The now 20-year-old is a sophomore for the University of Minnesota, leads the NCAA in average strikeouts per game and threw a no-hitter against Penn State earlier this year. Groenewegen has an extensive list of achievements including Big Ten Player of the Year, Pitcher of the Year and many, many strikeout awards. Sara is no stranger to international competition, throwing a no-hitter against China at the 2013 World Junior Championships.
Sara, along with hundreds of other international female athletes, is preparing for one of the biggest sporting events of 2016. The Women's World Softball Championship, otherwise known as SURREY 2016, is going to highlight world-class competition right in Groenewegen's backyard.
To purchase tickets and support Team Canada on their journey to win gold at Surrey 2016 please visit www.surrey2016.com. Follow the World Championship on Twitter @Surrey_2016 or Facebook.
---
About The WBSC XV Women's World Softball Championship:
The WBSC XV Women's World Softball Championship is operated by the SURREY 2016 Organizing Committee, which focuses on the advocacy and development of the sport of fastpitch. The event is built on the power of sports, where the athletes and teams of every softball-playing nation in the world have an opportunity to compete. For two decades, through the Canadian Open Fastpitch Society, they have accomplished this by staging a first class, family oriented elite international fastpitch championship. Throughout the event, female athletes have the opportunity to expand their potential and ability by being exposed to potential university and college scholarships as well as a source of inspiring and mentoring the youth of the sport.